With the start of a new year and a new decade, we are excited to present a new feature on our website where we highlight a different AM radio station each month. It seemed appropriate that we kick off this feature with the station that pioneered the radio broadcast industry with the first commercial broadcast in 1920 – KDKA 1020 AM in Pittsburgh, PA.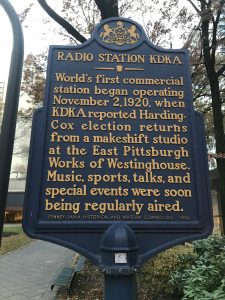 Celebrating their centennial anniversary this year, KDKA has a long and rich history that has been shaped by both World Wars and the decades of political and cultural changes that took place thereafter. During WWI, Westinghouse Electric and Manufacturing Company, led by engineer Dr. Frank Conrad, developed transmitters and receivers for the Army Signal Corp. After WWI, Dr. Conrad started using this, at the time, cutting edge technology to broadcast music and spoken word out of his East Pittsburgh garage under the call sign 8XK. The promotional opportunities for Westinghouse's crystal radio sets became so irresistible that they made the momentous decision to expand to full time programming.
So Westinghouse filed for a limited commercial station license, and their first official broadcast went out over the airwaves without a hitch on November 2nd, 1920, reporting the results of the Warren G. Harding and James Cox Presidential election. Being that this took place before the Federal Communications Commission (FCC) was established in 1934, it was the Department of Commerce, Bureau of Navigation that issued a license to Westinghouse and the call letters KDKA to the station. Call letters were only being assigned to ships and marine shore stations at the time, so KDKA was truly a pioneer in bringing radio programming to the masses.
Today KDKA, owned and operated by Entercom, is a thriving station with a very active listener base that spans multiple generations. When asked what separates KDKA from other radio stations in serving the Pittsburgh community, Jim Graci, Program Director for KDKA, said, "Community is part of the DNA of News Radio 1020 KDKA," and a DNA that stretches back 100 years leaves an indelible impact on a community. That impact is felt in a variety of areas through Entercom's five pillars of support: Veterans & Service Members, Mental Health, Children's Health, the Environment, & Civic Education. Every year since 1946, KDKA has done fundraisers for the Pittsburgh Children's Hospital, and they helped sell war bonds over the airwaves during WWII. Graci said, "When there is the need for a helping hand, our talent goes out of their way to mobilize listeners to help in ways that are indescribable." For example, on Feb 13-14, KDKA will host its 11th annual Warmathon, to raise funds for the Dollar Energy Fund, which helps those who need assistance with their heat or energy bill. In 2019, KDKA's two day Warmathon raised $155,000 for the fund. The station has raised over $2 million for the Dollar Energy Fund over the last ten years. This gets the heart of what radio is all about – bringing people together to serve the needs of the community at large.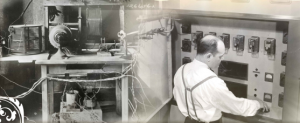 As far as programming, KDKA is committed to Entercom's mantra "Live and Local," providing traffic and weather reports hourly during the week, and they even manage to frame national topics in a way that's relevant to the Western Pennsylvania region. Current morning news host, Larry Richert, played KDKA's last song on the air, Don McLean's classic "American Pie" with the fitting lyrics "the day the music died," on April 10, 1992, and since then they've engaged listeners in local news, politics and civic concerns on their news and talk programs.
As technology evolves at a more rapid pace and listener expectations along with it, KDKA is keeping up by expanding their content beyond radio to social media, podcasting apps, and their own online streaming platform RADIO.com. They continue to stay loyal to the roots of radio broadcasting as a public service while bringing information and entertainment to their listeners through the most convenient platforms. Here's to the next 100 years of dedicated "live and local" programming and community support from KDKA.