Waterjet Cutting uses a high pressure stream of water combined with an abrasive, a fine sand like material, to cut any material except tempered glass with high accuracy.  Waterjet cutting differs from laser cutting in that it produces no heat on the parts which can cause defects or deformation.  We stock a large amount of aluminum, copper, and brass sheets and can get other materials quickly from our dedicated metal suppliers. Our machine shop has the ability to quickly generate quotes and meet tight customer required lead times if we have the material in stock.  We also offer additional in house value added services like welding, bending, tapping, milling, turning, grinding, and painting.  If galvanizing or electroplating is required we can quote this as well but this will increase the delivery time. Our mechanical design team uses SolidWorks and Autocad to generate the files necessary for the automated waterjet cutting.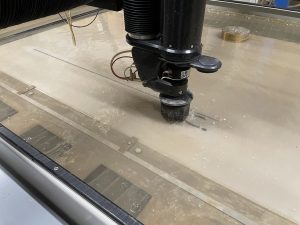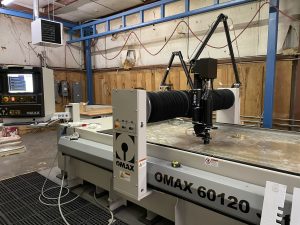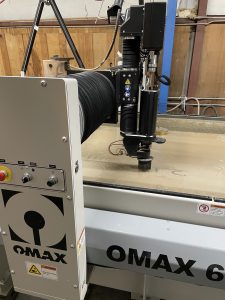 Machine Specifications and Cutting Details
Machine Type:  Omax 60120
Cutting Bed Size:  55" W x 120"L
Cutting tolerances:  As close as +/-0.003" (+/-0.08mm)
Material Thickness:  Up to 3" Comfortably
Edge Quality:  Good
Material Distortion: None
Heat Affected Zone (HAZ): None
Material Limitations:  Works in virtually all materials except really hard ceramics and tempered glass
File Types Accepted: DXF | DWG | STP | STEP | SLDPRT

Note: All drawing files must be in full scale
Contact Us For Quotes

For quote requests please email us at ktl@kintronic.com or use our contact page.
If the file size is too large to send via email contact us at ktl@kintronic.com and we can send a link to our cloud storage for upload.
We offer pickup and delivery services for locations within a 1 hour drive from our facility.  Contact us today for a price.