It is not every day that we get to work in our back yard but earlier this year we had that opportunity as we completed a diplexing system for our friends at WMTN 1300 and WCRK 1150, located in the Morristown, TN area. Both stations have a long standing history, with WMTN's original FCC engineering being done by Louis King in 1957 as you can see by the application record shown here.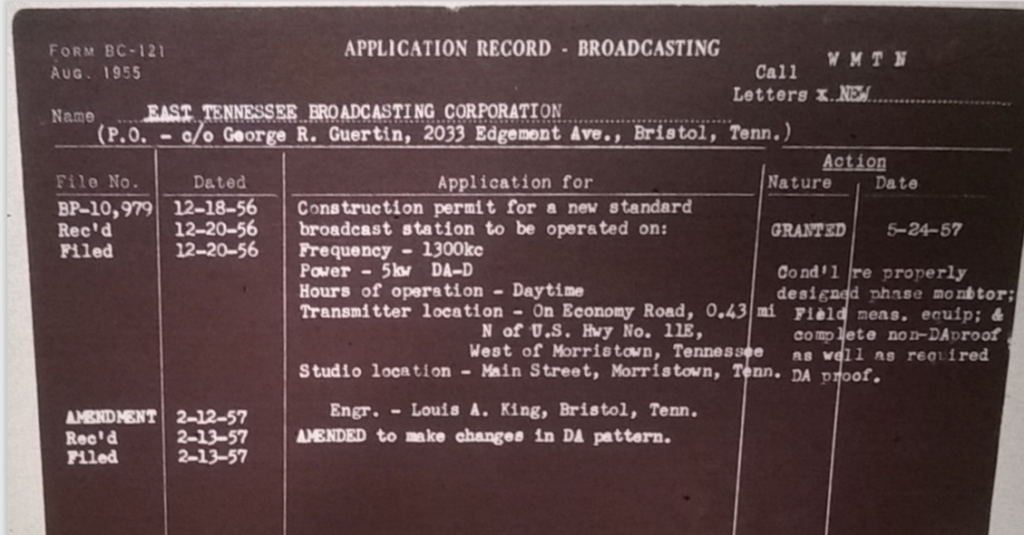 WCRK, whose transmitter site was becoming surrounded by developed housing, received an offer for the land prompting the desire to move WCRK to the WMTN site.  We were contacted by our good friend Frank Folsom of R.F. Laboratories, Inc. who used a T antenna for temporary operation of WCRK while we designed and built the new diplexing equipment to add WCRK to WMTN. We designed and built their diplexing system in 2022 and performed the final on-site tune-up of the system on October 11, 2022. Both stations are now on the air at full power, where they will continue to serve Morristown, TN and the surrounding area with their two AMs and two FM translators.
Consulting engineer Frank Folsom coordinated the project since its inception several years ago.
At 86 years old, Frank is still active in AM and FM broadcast engineering and we are thankful to call him a friend.