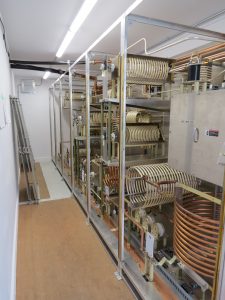 In September of this year the new broadcast operation of the Sher E Punjab Media AM radio station was launched  as a result of new phasing, matching and filtering equipment designed and supplied by Kintronic Labs and installed by GS Broadcast Technical Services that was utilized to facilitate the co-location of  the Sher E Punjab station CKSP operating on 600kHz with a 50kW DA-D/20kW DA-N two-tower directional antenna system onto the existing four-tower 50kW DA-D/N operation of CKNW on 980 kHz in the Vancouver, BC, Canada market.
The CKSP phasing system was configured in an open panel and shelf arrangement with expanded aluminum removable panels that serve to provide the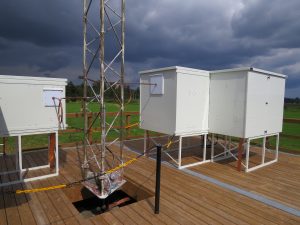 necessary RF isolation for the operators, but that also permit visible inspection of the RF networks during normal operation.  The phasing system was installed in a standard shipping container, which served as a low cost solution for the transmitter building.
The tower antenna tuning units were fabricated in aluminum enclosures with expanded aluminum hinged, front access doors also to facilitate visible inspection of the RF networks during normal transmitter operation.  The Antenna Tuning Unit (ATU) enclosures were installed in weatherproof shelters.