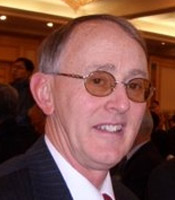 Tom King serves as the president and CEO of Kintronic Labs, Inc. and is the son of founder Louis King. He holds both BS and MS degrees in Electrical Engineering from the University of Tennessee and completed the course work toward a Ph.D in Electrical Engineering at the University of Arizona.
His service to Kintronic Labs is enriched with over three years of experience in the development of weapon system sensors with the U.S. Naval Weapons Center and five years as a project engineer for Navy and Marine Corps aircraft electro-optical defensive systems with the General Research Corporation Special Warfare Laboratory.
Mr. King has authored numerous papers on the subject of AM/MW Broadcast Antenna Systems.  In 2015 Mr. King received the prestigious NAB Radio Engineering Achievement Award.  He also co-authored the chapter entitled "Antenna Coupling and Phasing Systems" published in the recently released 11th Edition of the NAB Engineering Handbook.  Mr. King is a member of the NRSC DAB Subcommittee, a member of the IEEE Broadcast Technology Society and an Associate Member of the Association of Federal Communications Consulting Engineers.
In order to continue the Kintronic legacy of serving our local community, Tom serves as a member and 'Paul Harris Fellow' in the Rotary Club of Bristol, TN/VA, serves as an Elder at First Presbyterian Church and serves on the Advisory Council of several non-profit organizations.  He is married to Leigh, and they have four adult children–Dr. Ben King; Katherine King; Geneva King; and Joshua King, and his wife, Morgan.